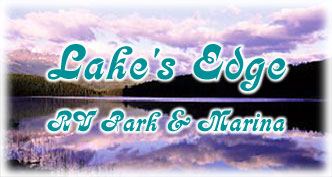 Photos

Spaces 2 - 8 with partial lake view.

Boat and boat trailer parking.

Space 12 overlooking beautiful
Siltcoos Lake.

Carole & Chuck at the Bass Tourney.

Jim's going fishing...

John's always gone fishing!!!

Lee and the Big Kahuna Coho

Carole & Chuck enjoying the afternoon.
Where's the wine and cheese???

Fred and another nice native Coho.

Jim & Bonnie's "Moon Shadow."

Another Blue Heron fishing on our dock.

Mother and 3 ducklings in our marina.

A stormy afternoon in Westlake.

And yes it does snow on the coast.

A quiet winter sunrise on Siltcoos Lake.

Real steamboats show off in August.

A purple moonrise over the lake.

Rainbows abound here - lots of rain too.

One of many Blue Heron at the lake.
Lake's Edge RV Park & Marina

Phone 541.997.6056

Email Lakesedge@oregonfast.net
4776 Laurel Avenue

PO Box 148

Westlake, OR 97493
Copyright 2000 - 2011 Lake's Edge RV Park and Marina
Cabins too - Oregon Coast Vacation Paradise
Updated 4/16/2011
Accommodations, Adult Park, Angling, ATVs, Bass, Beach, Beach Combing, Bear Watching, Beautiful, Biking, Bird Watching, Bluegill, Boat Ramp, Boating, Brown Bullhead, Cabin Rentals, Cabins, Cabins with Kitchens, Canoeing, Catfish, Central Coast, Chinook, Clam Digging, Clean, Coho, Comfort, Cottages, Crabbing, Crappie, Decks, Destination, Dock, Duck Hunting, Dunes, Dunes City, Family, Fish, Fishing, Fishing Tips, Florence Oregon, Free, Fun, Golfing, Highway 101, Hiking, Horseback Riding, Hunting, Kayaking, Kitchens, Lake, Lake Side, Lake View, Lake's Edge, Lane County, Lighthouse, Lodging, Map, Motel, Mountain, Mushroom Hunting, Non-House Keeping Units, Northwest, Oregon, Oregon Coast, Oregon Dunes National Recreation Area, Pacific, Peaceful, Pleasure, Quiet, Rainbow, Recreation, Relaxing, Rentals, Resort, Romantic, RV Park, Sail boarding, Sailing, Salmon, Sand Dune Rides, Sand Dunes, Sea Plane Tours, Sea Run Cutthroat, Senior Park, Siltcoos Lake, Siltcoos River Canoe Trail, Sites, Siuslaw National Forest, Steelhead, Sturgeon, Swimming, Tranquil, Trout, Units, Vacation, View, Water Sports, Water-skiing, Weekend Getaway, Westlake, Whale Watching, Wildlife, Wind surfing, Yellow Perch